Shark Cage Experience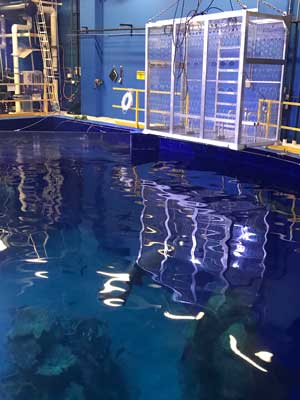 Take the plunge in our NEW Shark Cage. Get a panoramic view of our 400,000-gallon Shipwreck exhibit and encounter Sand Tiger sharks, Sandbar sharks, Zebra sharks, Blacktip sharks, Bamboo sharks and hundreds of other fish.
An A-1 Scuba guide will assist in fitting each guest with the proper equipment. Participants will be briefed on the basics of breathing from a surface-supplied regulator. You'll be guided and assisted into our large underwater cage!
Dates: Every weekend (Sat, Sun)
Times: vary and subject to change
Pre-registration required
Cost: $155 per person
Private Shark Cage Buyout Available Upon Request
Includes: one Free Aquarium Exhibit Pass (per guest) or Free Parking and one Free Chef's Appetizer of Day at Aquarium Restaurant (one coupon per table per visit)
Age limit: 8 years and up
NO DIVING CERTIFICATION REQUIRED
All equipment is provided
Underwater for approximately 20 minutes
Guests who are visibly ill or under the influence of drugs or alcohol will not be permitted to participate.
Guests must be in good health and complete a liability release form
Please bring shoes to wear on the wet deck (i.e. keens, flip flops, water shoes, etc)
No bare feet allowed
To schedule a private program, please call 303-789-2450.
*Please contact us in advance if you or someone participating will need assistance. In some situations this may require trained assistants. For special needs questions, please call the number above.