Dive Into a Dining Adventure!
As we re-open our dining rooms, we will continue to practice and take part in preventive measures to ensure the safety of you and your family. We look forward to serving you once again.
Your underwater adventure begins as you are seated around the 150,000 gallon aquarium with excellent views of reticulated rays, majestic sawfish, shovel-nosed guitarfish and other fascinating creatures as they swim right by your table. The Aquarium is not only a feast for the eyes, but also for the palate. Aquarium restaurant offers a variety of seafood specialties, steaks, chicken, salads, pasta dishes and decadent desserts.
Restaurant Hours of Operation
Sunday – Thursday 11:30am – 8pm
Friday & Saturday 11am – 9pm
ORDER DELIVERY
Make Dining Reservations
Dive Lounge Hours
Sunday – Thursday 11:30am – 8pm
Friday & Saturday 11am – 9pm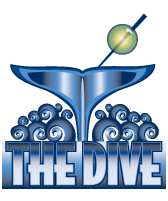 The Dive Lounge
Located on the second floor, the Dive Lounge is an upscale bar offering a posh get away before and after dinner. It's the perfect setting to relax and unwind after a long day at work or a visit to the nearby Theater District.
The Crayon Initiative
We're honored to launch a new partnership with The Crayon Initiative, a unique charitable organization that takes unwanted crayons and remanufactures them to donate to children's hospitals across the country. Donate your crayons at the end of a meal or bring in your own to give to a great cause. Just look for the donation box.

For more information and to donate TheCrayonInitiative.org