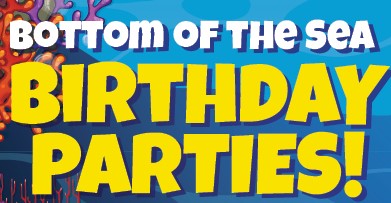 Book Now
Bottom of the Sea Birthdays
Bottom of the Sea Birthday Party Package
Party Includes:
Guided Tour of the Aquarium Adventure Exhibit
Reserved Dining Area in the Aquarium Restaurant for 1 Hour
Ocean-Themed Birthday Cake with Custom Message
One Complimentary Adult All Day Adventure Pass per Child
One General Parking Validation
Each Child Receives:
Kid's Meal with Beverage
Plush Party Favor
All Day Adventure Pass – Grants Unlimited Access to Aquarium Adventure Exhibit, Stingray Reef, and Amusement Rides
Things to Remember:
Birthday party packages are available on Saturday and Sunday mornings beginning at either 10:00am or 10:30am.
Party reservations must be made at least two weeks in advance and are booked on a first-come, first served basis.
Reservations require a $200.00 deposit.
Minimum of 10 children or 10 purchased packages and maximum of 20 children. With complimentary adults, party size cannot exceed 40 total guests.
A guide will be provided for the exhibit tour only; not for the amusement park.
Additional food and beverages can be pre-ordered for adult guests prior to party or purchased on the day-of. Since parties are limited to one hour in the restaurant, we suggest pre-ordering a few of our delicious shareable appetizers such as the Castaway Combo!
Outside food, beverages, and entertainment (face painters, characters, magicians, etc.) are not permitted.
Please email [email protected] or call (713) 315-5112 to check availability and book your party today!
$32.00 (Plus Tax & Gratuity) Per Child; Suitable for Ages 2-14
Ultimate Tiger Sleepover Birthday Party
Celebrate your special occasion with a dinner reservation in the Aquarium Restaurant, unlimited access to the Amusement Park, and then spending the night here at the Downtown Aquarium! Explore the rainforests of the world and learn about conservation through the eyes of a tiger. Get ready to stay up late, learn all about tigers, do crafts, go on a scavenger hunt, and sleep within inches of these amazing animals. Perfect for scout groups and birthday parties! Scout program options available on the booking page.
Includes: A guided tour through Aquarium Adventure Exhibit, reserved dining area in the Aquarium Restaurant for 1.5 hours, ocean-themed birthday cake with custom message, evening crafts, scavenger hunt, snacks, hot breakfast, a live bird encounter & keeper chat, and free parking for Guests spending the night.
Each child receives: A kids meal & drink, plush party favor, All Day Adventure Pass (grants unlimited access to the Aquarium Adventure Exhibit, Stingray Reef and Amusement Rides), three midway games tickets, and a souvenir sleepover t-shirt.
Available on Friday and Saturday evenings, excluding major holidays, beginning at 5:00pm and ending at 9:00am the following morning.
Age: 6 - 12
$95 per child (plus tax and service charge)
Program dates must be reserved online at least two weeks in advance and are booked on a first-come, first served basis.
Requires a $425 deposit, which is due at the time of booking.
For current available options, call (713) 315-5112 or email [email protected]
*Minimum of 10 children required. Group size is limited to 25 total participants including children and adults. If your total number is less than 10, you will still be charged for 10 children. You will receive one free adult per five children. Additional adults will be charged the Wild Dreams Overnight fee of $70 (plus tax). Additional food and drinks for adults will cost extra.