Dive Into a Dining Adventure!
As we re-open our dining rooms, we will continue to practice and take part in preventive measures to ensure the safety of you and your family. We look forward to serving you once again.
Your underwater adventure begins as you are seated around the 50,000 gallon centerpiece aquarium, which allows exceptional floor-to-ceiling viewing from all tables. More than 100 species of colorful, tropical fish from the Caribbean Sea, Hawaii, South Pacific and the Indian Ocean – reside in the tank. To the great delight of both children and adults, a diver makes feedings twice a day in full view of the dining room. The unparalleled offerings at Aquarium feature only the freshest fish, seafood, steaks, and more.
Restaurant Hours
Monday & Tuesday: Closed
Wednesday & Thursday: 11am – 9pm
Friday & Saturday: 11am – 10pm>
Sunday: 11am – 9pm
Holiday Hours:
December 20 - 23: 11am – 9pm
Christmas Eve, 12/24: 11am - 10pm
Christmas Day, 12/25: 12pm - 8pm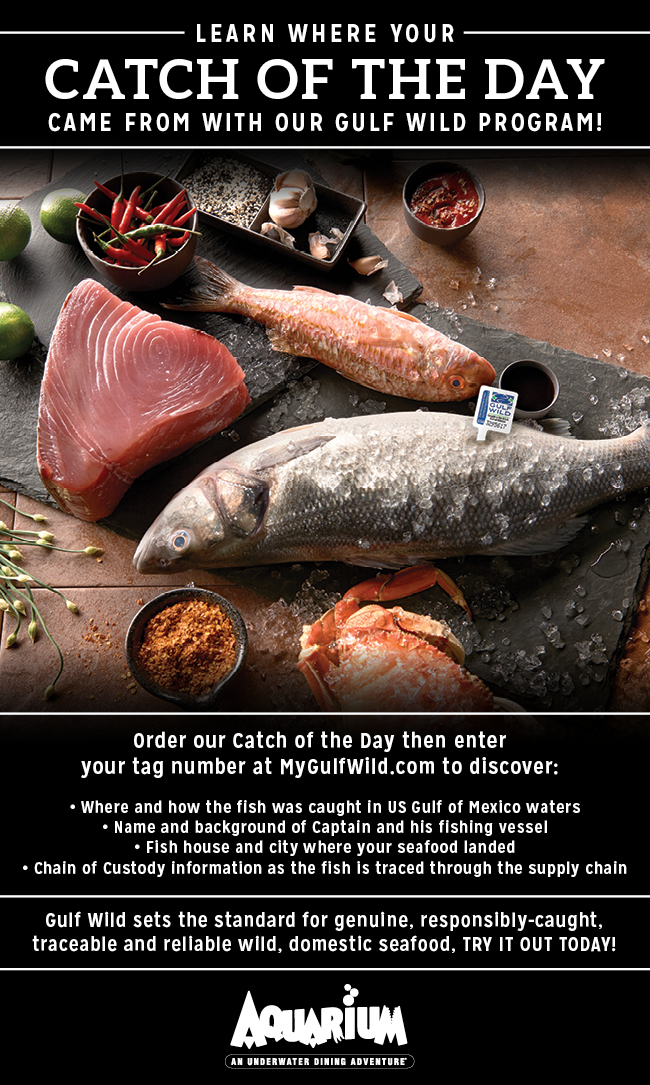 Gulf Wild Program
Downtown Aquarium Houston and Aquarium Restaurant Kemah, in partnership with Gulf Wild™ Seafood, are literally bringing transparency and real-time traceability to the table thanks to advanced data tags. These tags, which come with every Gulf Wild™ snapper, grouper and tilapia served at the Aquarium, provide details about the location of the catch, which boat pulled it in and with what bait, the captain's name, and even the quality of the water it swam in. To track the origins of your fish, simply plug in the fish's unique data tag number on the TRACK YOUR FISH feature located on the Gulf Wild website. You will be given immediate access to the individual information connected to that specific fish. Gulf Wild's core mission is to ensure seafood sustainability and fishery conservation in the Gulf of Mexico. For more information visit gulfwild.com.
*Guests of the Boardwalk Inn receive preferred seating.